Facilities
With 1100 sqm of prime office space, FinChi provides your company with the best fit space for you. In order to match the high-profile image, FinChi's office interior has just been renovated with a Nordic and innovative environment in the summer of 2015. All the conference rooms, meeting rooms, office suites, custom-made furniture and recreation area have been constructed in line with Finnish style and standards to offer the maximum comfort for you. Most importantly, the Finnish air purifier system is also installed in the central ventilation system of FinChi offices to bring the genuine purity to your daily work.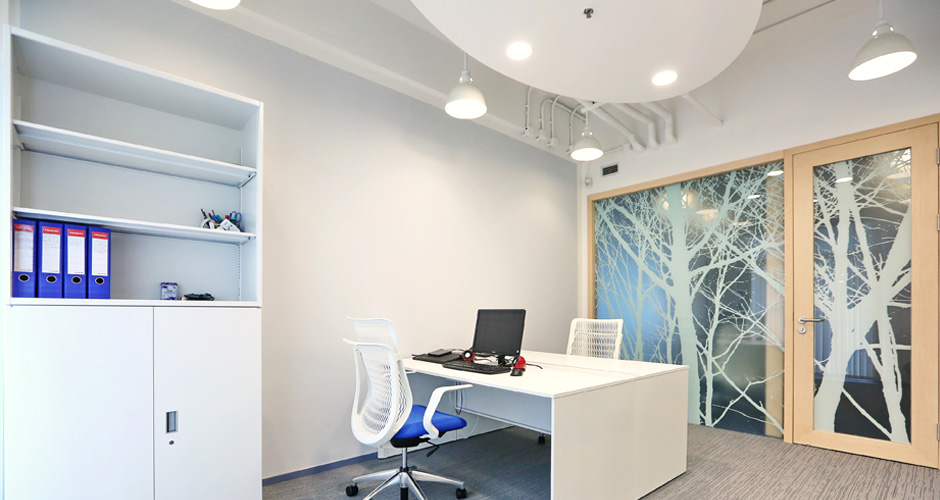 At FinChi, three different types of office suites are served according to your own business strategy and personal preferences.

Executive Office Suite
14.5 sqm net office space
+11 sqm net balcony
An executive office suite for 2-3 professionals with superb vies and large furnished balcony
Internal Office Suite
9 sqm net office space
An executive office suite for 1-2
professionals
Open Work Station
A flexible work station with all office
services for 1 professional
Once you work in any of our office suites, you can also enjoy the monthly rental use of the followings:
• Fully equipped with executive desk, chair, and pedestal and telephone handset for each workstation
• 24 hour CCTV monitoring services
• Individual security alarm system for each room which is connected with property security department
• Free coffee and tea for both you and your guest
• Regular office cleaning
• 24 hour and 7 days a week access to Designated Space
• Direct telephone number with IDD facility
• Broadband and wireless internet access
• 24 hour access to Laser and Inkjet Printers, Photocopiers at the Utility Areas
• Office rooms available for legal registration

A stylish and decent meeting room with first-rate facilities is undoubtedly the most important prerequisite for the success of various business events such as meetings, seminars, trainings, etc. And at FinChi, such success can be guaranteed by our plug & play meeting rooms upon your reservations.

At FinChi, three meeting rooms with different size are open for your reservation:
Meeting Room: Capacity of 8-10 people
Conference Room:Capacity of 10-14 people
Seminar & Training Premise:Capacity of 30-40 people
All meeting rooms can be reserved as little as an hour with free access to internet, whiteboard and markers, coffee and tea. All the meeting tables are movable for your set-up standards for different meeting purposes. Catering services and LCD screen are also available if required.

Light and spacious lobby, multi-functional cafeteria with an extension to the outdoors balcony constitute FinChi recreation area. As an indispensable portion of our FinChi community, various activities are held here for either business or entertainment purposes such as opening ceremony, BBQ, Christmas Party, etc. This is the place that makes our clients connect each other as a family under the Finnish environment and culture!

Lobby
• 50 sqm net area
• First-rate receptionists at reception desk
• LCD screen for Clients' marketing purposes
Cafeteria
• 50 sqm net area
• Multifunctional bar tables and stools
• Coffee machine, microwave oven, fridges and other equipped facilities
• Genuine green wall & original Finnish designer's furniture

It is known to us all that Sauna is a way of life in Finland and for Finns. In Finland, there are more than three million saunas, an average of one per household! Therefore, the act of enjoying a sauna is an inherent part of the national culture, which definitely applies to us as well, as the 100% Finnish soft-landing platform.

At FinChi, original Finnish IKI electric sauna heater, specially designed U-shaped resistors, together with the open balcony, is offering you a combination of pleasant gentle steam and fresh air, just bringing you back to those relaxed summer holidays in Finland.


FinChi
FinChi provides a fast, safe and trouble-free platform for Finnish companies, institutions and other organizations in China
Contact info
Rm401-402, #2 BLDG 690 Bi Bo road Zhangjiang Hi-Tech Park Shanghai 201203
Tel: +86 21 6104 2222
Fax: +86 21 6104 2200
E-mail: finchi@finchi.cn